Hello everyone. xD I have no idea what to blog about today but I'll blog anyway for the sake of 31st January. Lately, I've been watching lots of television shows and thus, neglecting my revision. Yeah, exams are right after Chinese New Year. =_= But oh well, I can't help myself from my TV addiction or should I say it's just a habit of mine that can't be broken. Haha In other words, I can't live without my television!



One of my all-time favourites, PRETTY LITTLE LIARS!
Thinking about this now, I'm just going to download the whole series into my desktop and watch them anytime I wish 'cause I can't stand the suspense any longer. Plus, I totally ship Toby and Spencer! xD
Another one of my all-time favourites, The Vampire Diaries. xD
For now, I'm not as into it as I'm into PLL but it is still one of my favourites. I seriously love Nina Dobrev! She is such a good actress xD And not forgetting, Ian Somerhalder too!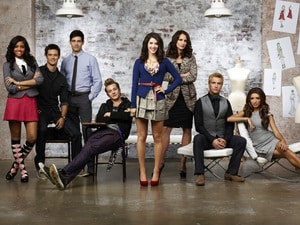 Jane by Design
Although this series might seem a little cliche and is similar to 'Hannah Montana', I just love watching TV series that involves a character trying to juggle two lives and achieving the best of both worlds. Haha But I seriously cannot believed they cancelled this series! D:
I LOVE THIS SITCOM!
I don't think I said this before but I CAN SERIOUSLY SPEND AN ENTIRE DAY WATCHING SITCOMS xD The jokes in this sitcom are mostly dirty and hilarious! Haha I seriously love Han, the boss of the diner though! He is so adorable. xD
Beauty Knows No Pain
I watch this during dinner everyday and you know what, I've been a TVB drama fan ever since I was born. Hahaha
Queen And I
I am a huge K-Drama fan! I ship this couple too. So adorable together! xD
I watch this series every Wednesday! I find this funny at times and kind of ridiculous but who cares anyway, I love it! I love how wild Chloe drives pitiful June crazy all the time. xD

I know sometimes the season can get a little boring, but I will never miss American Idol series regardless.

These are my weekly TV shows! See, I told you so. XD I watch a lot of TV and I think it's impossible for me to cut down. Haha Typical me! :D